Step Across The Border  returns to the city where it began almost two years ago for the project finale which will serve to bring the various threads and themes together. Staff, learners and clients will work together to create a final exposition to present before public audiences as well as networking with the various peer organisations, clients and public with whom SATB has encountered over the last 2 years.
Here are some  highlights from the first SATB  "Kick Off" meeting in Berlin 2017
Linocut Workshop at Bienenwerder /  Food Sovereignity Graphic by Gabba
Herb identification tour with Rasheeqa and Gabba at Bienenwerder farm
SATB Berlin Activity Programme  16 April - 22 April 2019
Tuesday 16 April 19:00 Talk with Caro Ophis Smart (True North Health / UK)  a.k.a. Dj Sexyrubbersoul
Premarts Galerie, Oppelner Str. 34 Wrangelkiez, Berlin.  Website Event link  Facebook Event Link
 
Caro is health practitioner, educator, musician, Doula and DJ. 
A creative force beginning in the late 80s on the London D.I.Y. underground queer and music scene(s), Caro is a passionate advocate for the therapeutic use of sound as well as having a focus that is directed towards health and well-being for women and children, Caro was one of the Co-founders and guardians of the Women's Autonomous Nuisance café (WANC), a London based DIY, vegan, community resource and place of edutainment and conscious raising, running in squatted and autonomous spaces around Hackney from 2000 to 2012. "The Wanc Caf"  is currrently  being featured at the London exhibition "Queer Spaces: London, 1980s – Today" at the Whitechapel gallery.
In April 2016 she spent some time volunteering at the grassroots project Refugee Community Kitchen (RCK) in Calais and Dunkirk, and was profoundly affected by the heart breaking situations that people find themselves in. This catalysed an urgency to find a way to reach out and see what people need and how she and others could help.
Thus TNH was set up as a formal UK community interest company with the idea to help people re-find their inner compass through the healing arts in order to navigate difficult situations including health diagnoses. And all this running parallel with Caros own ongoing 15 year self healing journey with diagnosed cancer which is documented on her ongoing blog Cancer Guinea Pig.
Equally inspired by the work of RCK , the Berlin socio cultural collective Czentrifuga teamed up with TNH, in addition to the l'Embobineuse culture center, Marseille , to create the Erasmus Plus supported, adult learning project "Step Across the Border".
This evenings informal discussion with Caro, is part of a week long programme of activities in and around Berlin , an exchange of techniques and skills ranging from medicinal herbal and plant recognition, to sound meditation workshops and finally a fund raising event/party for Refugee Community Kitchen on Sunday 31st April at Czentrifuga ateliers, Markgrafendamm 24c Ostkreuz, whereby, amongst a diverse programme of discussion, short film, performances, theater, live music food and refreshments, Caro will be spinning soulfull and dancehall flavoured vinyl drum n bass.
From 18th April until the 20th April, the SATB group and guests  will be based at Wiesenzirkus Bunterhund in Ruedersdorf, 30 km east of Berlin, courtesy of Lebenshilfe Ruedersdorf e.V.  This women organised cultural space integrates with people with special needs and  other marginalised groups in a socio cultural /creative context. The space  includes a discussion area, theater stage and guest wagons. From here, the SATB group will  visit  local culture projects who make up a regional network.
Thursday 18th April  20:00 SATB  at Wiesenzirkus Bunterhund with introduction to the project by Christina, SATB short film presentation, discussion and exchange with a view to  future co-op possibilities and network development.
Friday 19th April  10:00 Medicinal Herb and Plant Recognition Tour with local experts and Rasheeqa Ahmad (True North Health / Herbalists Without Borders /UK)
Friday 19th April  12:00 Visit to regional socio cultural projects "Das Landgut Neuendorf im Sande" & "Kesselberg"
Hakhshara at Gutshof Neuendorf_images from Judischen Museums Berlin archive
Das Landgut Neuendorf im Sande is a small village with diverse agricultural buildings set amongst 35 hectares of woods and farming land which was bought via auktion in 2018 with the support  of regional government and the foundations Trias and Edith Maryon. The organisational group "Zusane" incorporates people with  different lifestyles and professions who share a belief in solidarity and social and ecological awareness. They bring professional expertise from farming, artistic, political, social sciences and pedagogic fields. The perspective is for the  group to expand, be intergenerational as well as to assimilate with the existing village residents, some of who have been living there since East German times.
The village  was a Jewish  learning center for handicrafts before being taken over and transformed by the National Socialists into  a work camp, from where many people, including children, were sent to the Auschwitz death camp. In East German times , the village was  a VEG  (Volkseigenes Gut) farming collective.
Kesselberg is a wooded 50 hectare area close to Berlin, which was  formerly a military communication base, now re-imagined to provide an  opportunity for people to live an ecological, social and cultural alternative lifestyle. There are approximately 100 people from different countries living and working there. Workshops include wood, metal, glass, bicycle, electrics, and ceramic , as well as ongoing initiatives to create gardens and renaturalize the  forest, a  wind turbine project , a wastewater treatment plant and solar thermal installation. Since 2002  Cofanis shamans  from Colombia visited Kesselberg which resulted in the formation of  a transnational  "Indigenous Embassy".
Fotos: Media Derive
Saturday 20 April  10:00 Theater and Sound Workshops at Wiesenzirkus Bunterhund (Rüdersdorf)
Technique exchange and demonstrations between Compagnie Peanuts (Marseille), True North Health (London) & Wiesenzirkus Bunterhund including a sound experiment at the nearby  Museums Park
Saturday evening participants will have the choice to go to an activity in Berlin or remain at Rüdersdorf
Saturday  20 April 20:00 Visit to "Mess" culture park , Berlin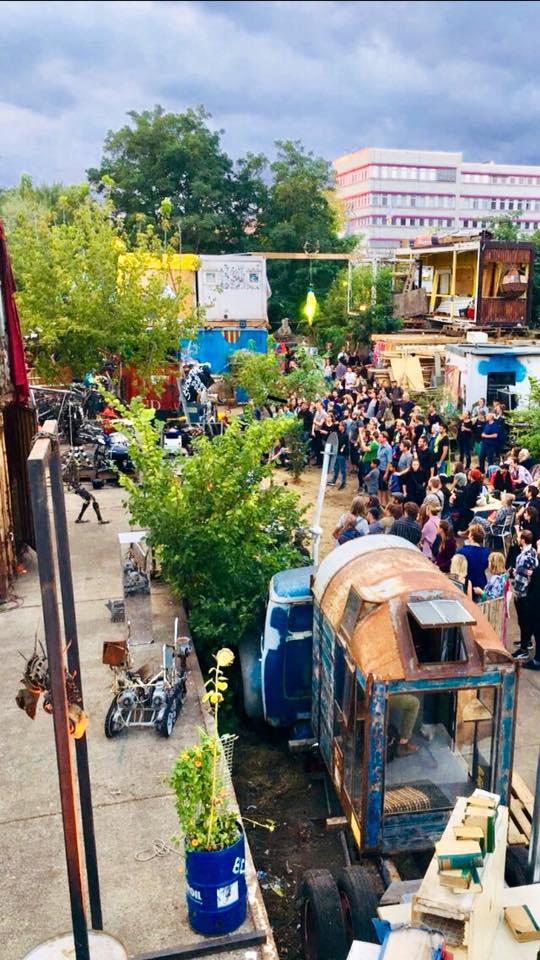 This is a new "container village"  cultural location in the heart of Berlin, Prenzlauerberg which is the planned setting for a new Erasmus inspired exchange project and workshop series to create instruments from scrap and found objects. The project will be a partnership between Czentrifuga, local Berlin instrument-maker Mohamed Khoudir  and the Luxembourg  organisation  Léieren& Savoir  who work  together with refugees.
As well as a tour of the space , the step across the border team are invited to make a music jam session.
Sunday 21:04 11:00 Easter Brunch with the Rüdersdorf team and friends
Sunday 21.04 19:00  SATB "infotainment" event and support action for Refugee Community Kitchen (Calais/Dunkirk/London) at Czentrifuga Ateliers . Ostkreuz Berlin.
21.04.2019 19 Uhr
STEP ACROSSTHE BORDER
MULTIKULTIMEDIA SHOW
CZENTRIFUGA ATELIERS BERLIN
SUPPORT FOR REFUGEE COMMUNITY KITCHEN
(CALAIS/DUNKIRK LONDON)
Yt - Vegan Food
"Theater Unter Druck" (Berlin)
Theater Wesenzirkus Bunterhund
Short Films from Panpirat and SATB...bring your own short films!
Discussion
Jam Session "Jekami" (jeder kann mitmachen/ everyone can join in)
Live! Czentrifuga Fallen Stars performance & music
Live! "Mona Servo" (LEMBOBINEUSE/MARSEILLE) noise industrial
Live! "Coronal Mass Ejection" (LEMBOBINEUSE/MARSEILLE) one man psych
post-rock with electric violin
Dj "Sexy Rubber Soul" (London) - Drum n Bass
Dj "Ben Assassin" - Bass
.......
Monday 22 April    BON VOYAGE CEREMONY !
Date:
Tuesday, April 16, 2019 - 15:15
to
Monday, April 22, 2019 - 15:30