This final SATB main meeting served to consolidate the various threads and themes adressed in the project as well as a further opportunity for the exchange of techniques and skills ranging from medicinal herbal and plant recognition to sound movement/meditation, theater and printmaking workshops, whereby staff learners and clients would work together to create a final exposition to present before a public audience, as well as consolidating the SATB network including peer organisations, clients and public with whom SATB has encountered´over the last 2 years.The weeks activities began at Premarts Galerie, situated near Gorlitzer park which is a meeting point for African refugees, many of whom who are prohibited from legal work and therefore remain in a kind of limbo and which has also sparked some controversey.The group visited the park and invited people to the nearby gallery.
TNH director Caro Ophis Smart spoke about her own personal story of living with and self treatment of breast and lymph cancer over the last 15 years (documented on her blog Cancer Guinea Pig ) and how that has a direct effect on her compassionate grassroots voluntary work. Caro has been a creative and educational force since the late 80s on the London D.I.Y. LGBTQA+ scene(s), is a passionate advocate for the therapeutic use of sound. Caro co-founded the Women's Autonomous Nuisance café, a London based DIY, vegan, community resource and place of edutainment and conscious raising,organised nomadically in squats and autonomous spaces from 2000 to 2012 and which was featured at the London exhibition "Queer Spaces: London, 1980s –Today" at the Whitechapel gallery. In 2016 she spent some time volunteering for Refugee Community Kitchen (RCK) in Calais and Dunkirk which catalysed an urgency to engage with refugees needs and look for ways by which she and her allies could help. TNH was set up as a formal UK community interest company with the idea to help people "re-find their inner compass through the healing arts" in order to navigate difficult situations including mental and health diagnoses. John Moulden also gave a summary and presentation about SATB, its activities and achievemnents so far.
CARO OPHIS SMART FROM TRUE NORTH HEALTH
The group travelled 30 km eastwards to Wiesenzirkus Bunterhund in Ruedersdorf and which is a women organised cultural space that seeks to integrate people with special needs and other marginalised groups, including refugees, in a socio cultural, creative context. Many activities are sponsored by Lebenshilfe e.V. and the space includes a discussion area, theater stage and guest wagons. This was the SATB homebase for the next 3 nights and from here, the group where able to visit other local culture projects which combine to make up a regional network. Activities here included an introduction to the project by coordinator Christina followed by a presentation of the new Compagnie Peanuts film followed by discussion and ideas exchange on the theme of using theater as a vehicle to engage with marginalised individuals/groups.The following day the group made a medicinal herb and plant recognition tour with local expert Doreen and Rasheeqa Ahmad (TNH/ Herbalists Without Borders /UK) which was followed by visits to regional socio cultural projects Neuendorf im Sande & Kesselberg.Neuendorf is a small village bought via auktion in 2018 with the support of regional government and the foundations Trias and Edith Maryon. Organisational group Zusane incorporates people with different lifestyles and professions who share a belief in solidarity and social and ecological awareness.The perspective is for the group to expand, be intergenerational as well as to assimilate with the existing village residents.The village was a Jewish learning center for handicrafts before being transformed by the Nazis into a work camp, from where many people,including children and teacher/activisit Clara Grunwald were sent to Auschwitz.In the DDR, the village was farming collective.The group also visited Kesselberg which is an alternative living community near to Erkner on the outskirts of Berlin.The space is organised collectively and includes various handwork atelier spaces as well as having a social-cultural  agenda and being a place for those wishing to live an alterantive off-grid lifestyle as well as  refuge for people with psycho social issues.
ARCHIVE PHOTOS FROM DAS LANDGUT NEUENDORF IM SANDE WHEN IT WAS A JEWISH "HACHSCHARA" LEARNING CENTRE IN THE 1930s
WIESENZIRKUS BUNTERHUND
KESSELBERG
On the Saturday SATB made an organisational meeting at Wiesenzirkus, the group sat together, to reflect on the achievements of the project and also brainstorm about possible future joint activities. The next day the group returned to Berlin to visit Disko Babel culture park which is a new "container village" which is the planned setting for a new Erasmus inspired exchange project and workshop series to create instruments from scrap and found objects. The project will be a partnership between Czentrifuga, local instrument-maker Mohamed Khoudir and the Luxembourg organisation Léieren& Savoir who work together with refugees. Sunday was spent preparing for that evenings public event at Czentrifuga ateliers,comprising of discussion, short films, performances, live printing, theater (Wiesenzirkus Bunterhund and Unter Druck) and live music.This was also a fundraising event for RCK and it ran into the early hours of the next day with only a few hours sleep before meeting together to say farewells and chat informally about future project ideas.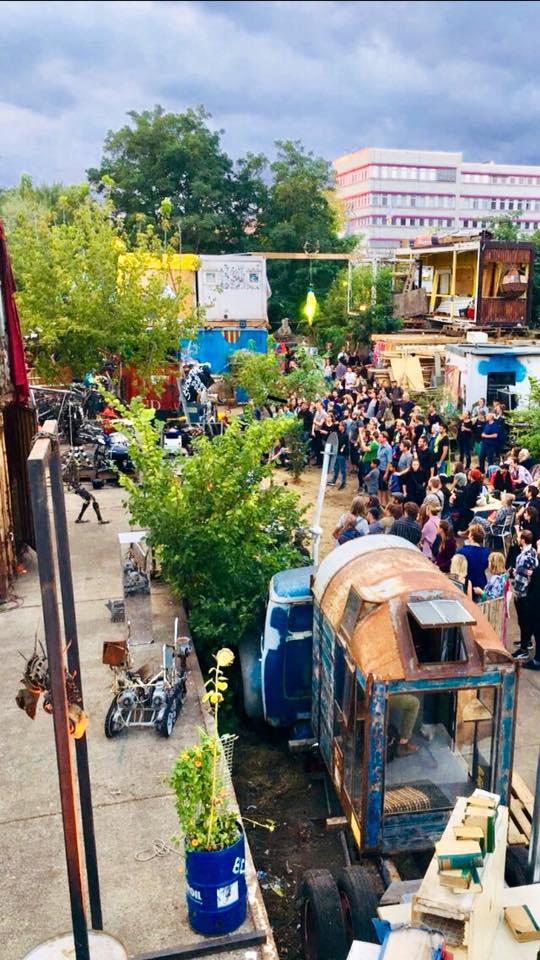 DISKO BABEL
Many Thanks to Sarah Cowell for video and translation of the
excerpts from the Unter Druck Theater  performance at Czentrifuga Ateliers
STEP ACROSS THE BORDER 2018
Date:
Saturday, September 28, 2019 -